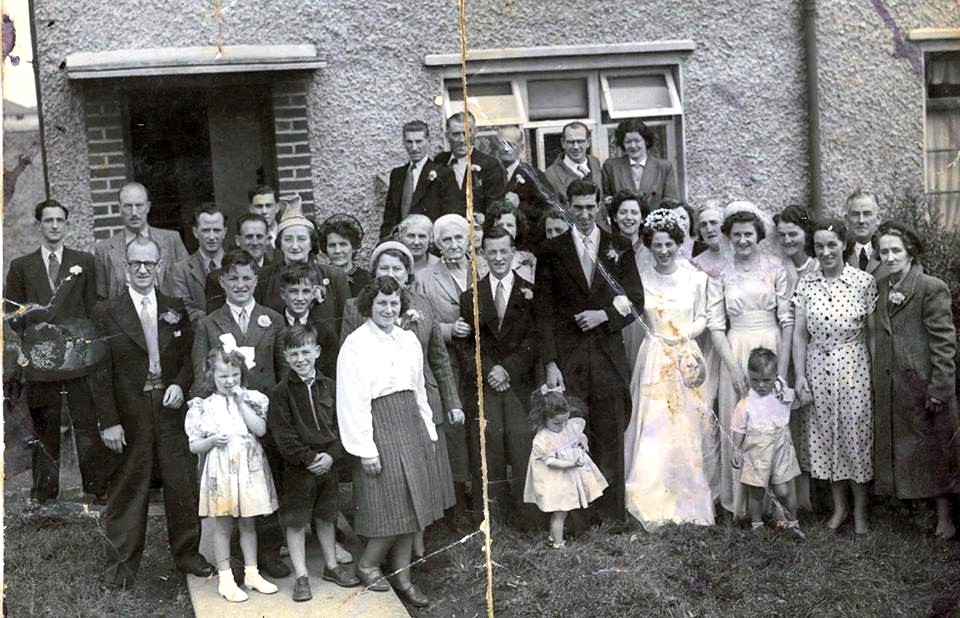 My Sister Betty's Wedding to Col O'Reilly, sometime approx 1951.
Looking at the Photo you see Colm and Betty and to her right Edith O'Reilly the Bridesmaid, Bettys Mother Olive and Grandmother Nana.The two kids in the front is Bettys Sister Verna and Brother Niall
to the left of Colm is Bettys Brother David (Bestman), holding David's arm is Colm's Aunt and immediately behind his Aunt is his Mother and directly behind his Mother is His Father standing on a stool, to his right is Bettys Uncle Paddy. dont know the next three.
To the left of David partly hidden is Bettys Aunt Madge Cummins,in front of Madge is Bettys Aunt Clarace (Bettys Mother's sister) to the left of Clarace is Terry Cummins (Betty's Brother) behind Terry is Betty's two Brothers Austin and to his left Brian and to Brian's left is Bettys Father (Jack Cummins) behind Jack and Brian Cummins is Bettys Uncle Gerard and behind Austin is Bettys Aunty Nell.
That's about it.